Each saw contains the patented Bimatic blade for two-way
cutting action,two 25 foot control ropes, throwing weight,
complete instruction booklet, and handy vinyl carrying pouch.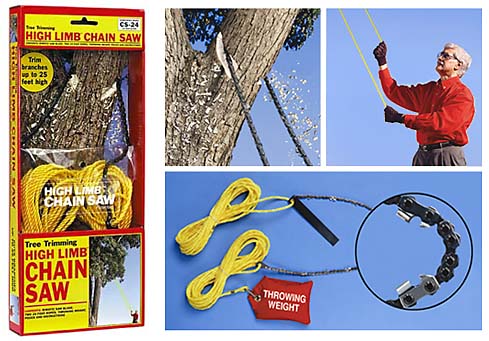 Introducing ....Highlimb Chainsaw
Seeing is believing! This saw really works! -Click here
The High limb Chain Saw has introduced a whole new method of cutting down high tree limbs. Because of this new "saw on a rope", the job of tree trimming in now safer and easier than ever before and can be done while standing on the ground.
Product Description:
The High Limb Chain Saw is constructed of patented chain blade* which features BIMATIC carbon steel cutter. These cutter are engineered for hand use and maximum cutting efficiency as the blade is drawn back and forth. Lightweight, but extremely strong, polypropylene ropes are attached to each end of the blade. A sandbag throwing weight is attached to one rope end. The polypropylene ropes are electrically non conductive, and will pose no problem if the saw comes in contact with overhead wiring.
Branch Size and Height:
Most effective on branches 5 inches or less in diameter, however, with extra effort it will cut branches of larger girth. With the amount of rope supplied it's easy to cut limbs up to 25 feet high. If you want to cut higher limbs, simply add more rope.
Blade Sharpening:
Sharpen blade in the same manner as a conventional chain saw blade with 5/32" circular file.
Types of Wood:
The saw works on virtually any type of wood.
We have our high limb chainsaw in two different sizes!
CS-24 CS-48
Specifications - Homeowner's Model #CS48
Total Length - 54 feet
Rope Length - 25 feet x 2
Chain Length - 48 inches
Specifications - Homeowner's Model #CS24
Total Length - 52 feet
Rope Length - 25 feet x 2
Chain Length - 24 inches
Guarantee:
As are all our products, the High Limb Chain Saw is fully guranteed against defects in parts and workmanship.

Made in the U.S.A